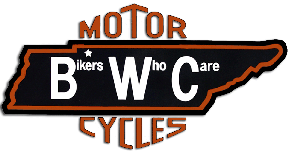 For those interested in helping the Bikers Who Care families, it has been announced that accouts have now been set up at Planters Bank for each family.
The accounts are for Jonathan & Katherine Over, Timothy Stone, Jim Wall and Allison Bagwell who all passed away Sunday just as the 30th Annual Leslie W. Watson Memorial Toy Run & Benefit Party at the Clarksville Speedway as they were wrapping up a sucessful weekend raising money for chairies supported by the Bikers Who Care.
Early indication they died from carbon monoxidse poisoning caused by fumes from a nearby generator just outside the rented recreational vehicle they had been camping in over the weekend.
There are 13 children who have lost one or both parents in this tragic accident. Any amount you are able to donate would be greatly appreciated.
The accounts are titled Bikers Who Care or the Benefit of the _______ family or just a general account that will be divided equally between the families if your not sure who to donate to.
Your donations can be made at any branch of Planters Bank for Jonathan & Katherine Over, Timothy Stone, Jim Wall, Allison Bagwell
**************************************************************************************
Think Clarksville * Think Fort Campbell * Think Real Estate * Think Roland
Licensed in both Tennessee & Kentucky. Please don't keep me a secret, if you know anyone looking to BUY or SELL, Please send me their contact informtion and give them my name and number.
View my website at Clarksville Home Information or Fort Campbell Housing
 Roland Woodworth is a member of NAR's Short Sales & Foreclosure Resource
Roland Woodworth, REALTOR ® Q Realty
Call: 931-320-9411
E-Fax: 866-596-2172
Clarksville TN Homes For Sale, Clarksville TN - Roland Woodworth, REALTOR
I specialize in helping families relocate to and from the Clarksville, TN and Oak Grove, KY - Fort Campbell, KY and the surrounding areas. I have the tools to market your Home For Sale including New Construction, Short Sales, Foreclosures, Distressed Properties. I'm a US Army Verteran still serving the Clarksville, TN amd Ft Campbell, KY area. Looking to sell your home,give me a call at 931-320-9411
TN Lic # 273649  -  KY Lic # 57120
Q Realty
1812 Memorial Circle. Clarksville, TN 37043
Each Office is Independently Owned & Operated
**************************************************************************************